DULUTH, Minn. -- After being accepted to The College of St. Scholastica in 2012, Kelsey Dickinson felt she needed some time for reflection and to develop further as a skier. The Winthrop, Wash. native deferred her acceptance one year to spend 2012 with the famed Sun Valley Ski Education Foundation (SVSEF) in Sun Valley, Idaho. The move paid off with Dickinson posting some of her best career results in the competitive Intermountain division junior ranks, including a podium finish, before fighting sickness through the late season. She intends to compete at CSS for the 2013 season, and leads a new crop of incoming Saints women's skiers for the 2013 season.

Duluth East's Chelsey Youngberg capped off a breakout 2012 Minnesota prep ski season with a sixth place finish in the Minnesota State High School Ski Meet for the Greyhounds. Joining Youngberg and Dickinson are two more skiers from out of the region, Molly Lovett of Jackson Hole, Wyo., and Rachel Colbath, Gilford, N.H., further broadening the geographical pull of the program outside the Midwest. The new skiers fill in for the lone loss on the women's team in 2012, four-time all-NCAA Central Region and two-year team captain, Eleanor Magnuson (Champlin Park, Minn./Champlin Park HS).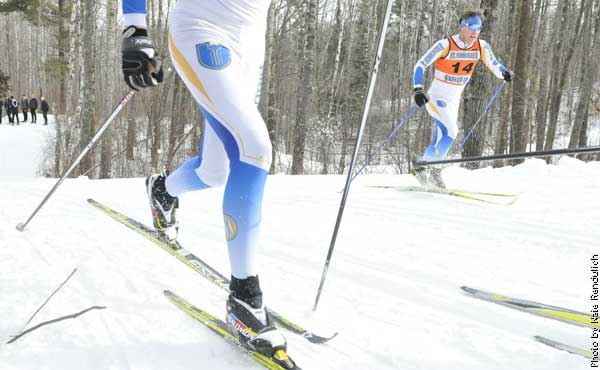 "I'm very excited about our incoming women's class," said Saints head coach Chad Salmela, who will begin his seventh season as the only head coach the program has had. "We have a good track record with skiers who are emerging out of being relatively new to the sport, or re-emerging due to some level of adversity in their development as ski racers. Chelsey fits the former and Kelsey fits the latter."

One of the goals Salmela has placed on the Saints ski program beyond outright competitiveness, is geographical pull beyond the Midwest.

"I really like this women's recruiting class in that it creates a different perspective for the group," according to Salmela. "When you can bring in different perspectives from other areas of the country, that strengthens the experience for everyone."

On the men's side, Detroit Lake's Jake Richards had a breakout year in prep skiing as well, finishing second in the Minnesota State High School Ski Championship to eventual Junior National Champion, Ben Saxton from Lakeville. Richards, who is a highly competitive mountain bike racer in the summer has renewed his focus on ski racing as the top performing incoming Saints man.

"Jake wanted to know what he could do to get to a new level in skiing," said Salmela. "We've had great conversations about how to do that without a wholesale change as a competitive mountain biker. It's a long haul approach that creates strong cross country skiers, and I think it's important for an athlete of Jake's ability that we set him up for success with a gradual adjustment of focus in training and competition. But his enthusiasm for skiing right now is very exciting. He's got a lot of raw ability."

Richards leads a strong trio of Minnesota prep skiers from 2012, with Calvin Mehrhof (Coon Rapids), Anders Evenson (Osseo), and Geoff Ash (Duluth East) who finished 12th, 16th, and 18th respectively in the 2012 State Meet.

The Saints are coming off, by all accounts, its landmark year in the short program's history. The team registered its first individual win, podium, and team win in program history, as well as qualified two skiers to the NCAA Championships for the first time in program history, where Jeremy Hecker (Andover, Minn./Andover HS (Univ. of Minnesota-Twin Cities)) and Paul Schommer (Kimberly, Wis./Kimberly HS) posted three top-20 finishes out of four races in Bozeman, Mont. Sharmila Ahmed (Savage, Minn./Burnsville HS) also chalked up the Saints first ever individual Junior National Championship title, winning the 10km mass start freestyle at Soldier Hollow, Utah, after a regular season in which the Saints women as a team, placed their highest team placing in every event of the season but one.

"We have an incredibly strong team as it is, but if you look at our top incoming skiers, they all have skied in high school like many of our current varsity team, and we have a good varsity team. Our women continue to develop into a more competitive team every year, and our incoming skiers will only continue that trend. It all continues to bode well for the future of Saints skiing," glowed Salmela. "It's a great group of new student athletes adding to an already great group."