Snowmageddon
Fri, Mar 2, 2012 - By Mike Muha
The National Weather Service says...
A winter storm warning remains in effect from 5 pm this afternoon to 5 pm EST Saturday.

Hazardous weather...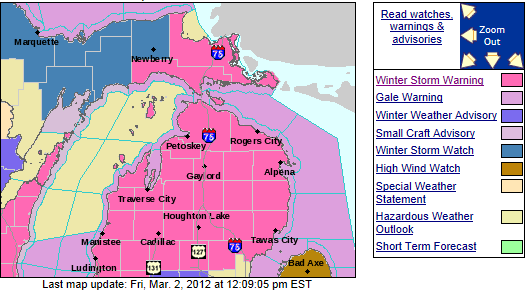 Heavy snow will spread into the area late this afternoon and this evening. Precipitation could begin as rain or a mix of rain and snow near Lake Michigan and Lake Huron...but will quickly change over to snow this evening. Lighter snow will continue through the day Saturday.

Snowfall amounts will range from 8 to 14 inches by Saturday morning...with a few more inches of fluffy snow on Saturday.

Increasing winds from the east and northeast this afternoon...
Swinging around to the north and northwest by Saturday morning. Wind gusts over 30 mph are possible...which will result in blowing and drifting snow. Near blizzard conditions are expected in exposed areas.

Impacts...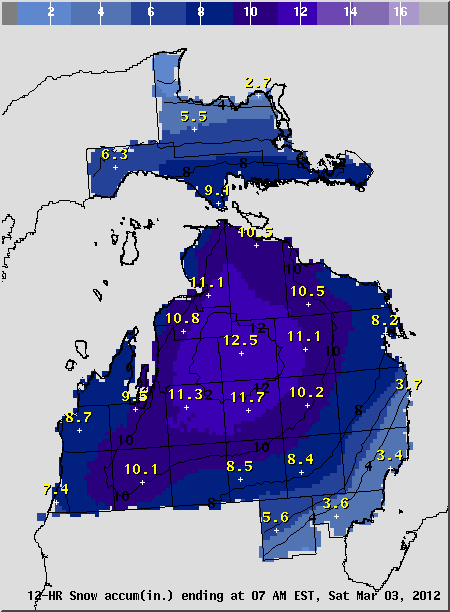 Heavy snow will make travel difficult beginning this evening...which will be exacerbated by blowing and drifting now as winds increase.

Precautionary/preparedness actions...
A winter storm warning means significant amounts of snow are expected or occurring. Strong winds are also possible. This will make travel very hazardous or impossible.
I say, Woo Hoo!