WHISTLER OLYMPIC PARK, BC (Feb. 14) - The wait is over: Johnny Spillane (Steamboat Springs, CO) sprinted to silver in a tight finish Sunday and gave the U.S. its first Olympic medal in nordic combined since competition began in 1924. Todd Lodwick (Steamboat Springs) and Bill Demong (Vermontville, NY) crossed just outside of the medals in fourth and sixth, respectively.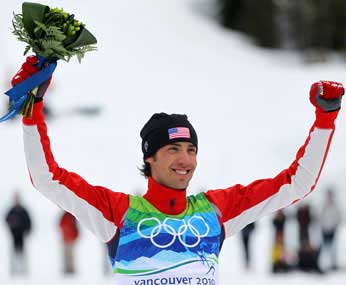 "To have an Olympic medal is something you always dream about," said Spillane, who lost a sprint at the finish to France's Jason Lamy Chappuis. "It's because it's every four years that makes it so special. You only have so many opportunities in your lifetime.

"It's taken us a long, long time to get where we are today."

Eighty-six years – a fact made all the more incredible by the possibility that three U.S. skiers could contend for a podium on a single day.

"To be able to be almost disappointed with second, fourth and sixth is a testament to the progress of the team," Demong said after charging back from a 24th-place jump to join the lead group with Spillane and Lodwick.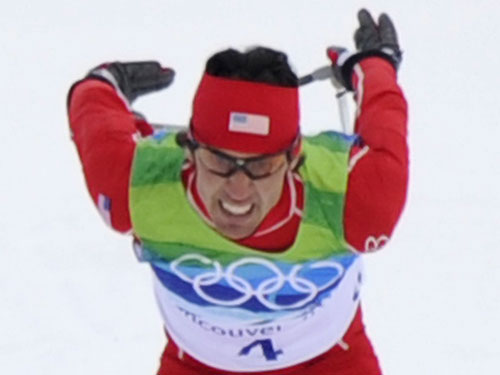 Johnny Spillane of men's Nordic Combined takes silver MICHAEL KAPPELER/AFP/Getty Images)
"I hope it means it'll be that much easier to get another. For a lot of the things that we've done, in this team – first World Cup victories, first World Championship medals – it's always about getting that first one out of the way."

Owning a combined 13 Olympic appearances, the trio of veteran U.S. athletes skied together in the lead group when Demong joined near the halfway point and Lodwick, the eldest, continued to set the pace.

Second after the jump, Lodwick had snatched an early lead because Finland's Janne Ryynaenen took a spectacular tumble on an aggressive, steep right turn in to the stadium. In his fifth Games, the 33-year-old somehow found the energy to pull for most of the 10-kilometer race and give Spillane the reserves he needed for a medal charge.

"I had to push the pace," Lodwick said. "Johnny pushed the pace. We knew that to win medals, we had to set a fast pace, and that's what we did."

Showing little regard for his own prospects, Lodwick headed the pack until he finally fell back with two miles remaining, and Japan's Norihito Kobayashi assumed temporary control.

"For Todd to take the lead like that until the last couple of laps, that allowed Johnny to sit in," Demong said.

Spillane was glad to have another rest from Kobayahsi and made his move with little more than a kilometer to go, creating instant separation of 10 to 15 meters.

"I tried to make a break. This is the Olympics, so you have to go as hard as you can," Spillane said. "We were lucky because some of the other guys took some pulls.

"I was able to feel pretty strong starting the last lap, had decent gap going into last hill before finish. As I got further up the hill, I started to go a little bit over too far into the red zone and was pretty tired when we came into the stadium and into the sprint, but overall very satisfied with today."

After recovering from injuries in five out of the last six seasons, Spillane said knee surgeries last fall mandated the complete rest he needed to get back to consistent top form.

"It was very difficult for a long time because I kept having really good results but it was very sporadic," he said. "I was wasting so much energy on recovering from injuries. Instead of trying to get better at nordic combined, I was just trying to get healthy."

Although the changing conditions weren't as kind to Demong as they were to Lodwick and Spillane (fourth despite struggles earlier in training) on the jump, he never lost sight of the team's goal and plowed through the cross country field in the afternoon.

"I wasn't even really that disappointed," Demong said. "I felt like I had the same jump I've been having.. Conditions were a little back and forth. There were a few of us who felt we didn't really get the score that we deserved, but it's hard to be disappointed when do your best and you turn around and look at the scoreboard and I've got two guys in the top five.

"For us, especially in nordic combined, it's about getting that first medal. For me, having Todd and Johnny up there makes me smile no matter what happens to me. It was just that much sweeter to be able to go out there, head down in the race and catch up to them and be part of that pack going into the finish."

Spillane said Sunday's thrilling conclusion isn't out of the ordinary for nordic combined, and expressed his wish that more people will get excited about the sport in the Unites States.

"It's typical of what we've been seeing in nordic combined this year so far," Spillane said.

"Hopefully, this will put nordic combined a little bit more on the map. It's been good to see more and more people know about the sport."

Brett Camerota (Park City, UT) also had a strong first-round jump for the U.S., the longest of the first seven competitors at 100 meters, and sat in 10th before falling to 36th in cross country.

OFFICIAL RESULTS
2010 WINTER OLYMPIC GAMES
Whistler Olympic Park, Feb. 14
Men's Nordic Combined NH/10 km
Final Results

Gold – Jason Lamy Chappuis, France, 25:47.1 (5, 5)
Silver – Johnny Spillane, Steamboat Springs, CO, +0.4 (4, 6)
Bronze – Alessandro Pittin, Italy, +0.8 (6,4)
4. Todd Lodwick, Steamboat Springs, CO, +1.5 (2, 11)
5. Mario Stecher, Austria, +13.6 (7,7)
6. Bill Demong, Vermontville, NY, +17.9 (24, 3)
36. Brett Camerota, Park City, UT, +2:09.5 (10, 38)