The sun was beating down and the heat rolling off the pavement, not that I really noticed: the hill I was climbing had 100% of my attention. My pedals were barely turning over. Sitting in the saddle wasn't working, my pedaling so slow I worried I'd fall over. So it was up and out of the saddle so I could put my full body weight on each pedal. I really wanted to stop, get off the bike, and walk up the hill, but I knew that would be even harder.
It didn't start out like that. In fact, it almost didn't happen at all. I spent the winter struggling with a heart electrical problem (since resolved - I hope) that sapped my energy over the winter. I did little training and was in terrible shape by the spring. Just as I started training again, my younger brother Jeff was diagnosed with cancer and I was spending time in Dallas. Unfortunately, it was a very aggressive cancer. We had his funeral just days before the ride.
My longest ride to date was only 50 miles, and most other rides were far shorter. I was feeling less than confident in my abilities in the weeks and days leading to the 100 mile JDRF Ride to Cure Diabetes in Burlington, Vermont.
But Juvenile Type 1 Diabetes is a serious problem. The Juvenile Diabetes Research Foundation puts on several rides a year t raise money for the better treatment and a cure for Juvenile Diabetes. A niece and nephew suffer from it, as were colleagues from work and their families. Evn world-class skiers like Kris Freeman live with Juvenile Diabetes. My brother-in-law Steve discovered this ride and convinced me to do it last year. I couldn't let him down this year, especially after another of his friends had to pull out because of a non-biking-related back injury.
So Thursday night I fly to New York, spent the night with Steve and my Sister Jesse. We take six hours to drive to Burlington on Friday. Fortunately, Steve and Jess drove back from the Jeff's funeral and took my bike with them so I didn't have to fly the bike out.
The ride has increased greatly since last year, from 150 to 250, as the word got around. Many of the riders have Type 1 Diabetes (T1D) and there have been multiple seminars over the past couple days on managing T1D when biking and on general riding.
We're up at 5:00am on Saturday for breakfast by 6:00, on our bikes at 6:45am for photos, and start rolling at 7:00am. The weather calls for bright sun...and a high of 95. It's already close to 70 when we roll.
One of Steve's law firm partners, Jeffrey, rides with us. Although he spins several times a week, his recent biking experience has been limited to four rides, one of which was a whole 30 miles. Andy, a client of the firm, had lots of biking experience and was looking for a fast ride. His friend Amy, a relatively new rider, had some miles under her belt, with a longest ride of 60 miles.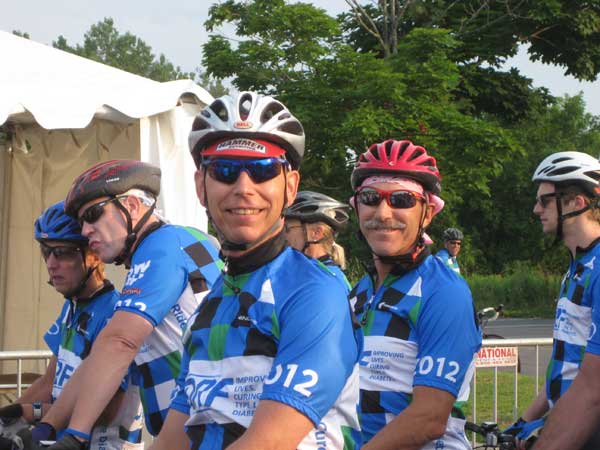 The ride left in waves, with police blocking a major intersection for us. Andy and Amy went out in the first wave while Steve, Jeffrey and I somehow put ourselves in the second wave. We never saw Andy again, except for one brief glimpse as he rode by us in the opposite direction, ahead of us at the turnaround point.
Being the good guys we are, Steve and I rode with Jeffrey. The ride to the first rest stop is about 13 miles. Although it has some climbs, most of it is downhill with a net drop of several hundred feet. Jeffrey is having some shifting problems and we ride slowly as he gets used to his borrowed bike, an older titanium Merlin with full Dura Ace. Not being used to hills (his rides have been limited to flat terrain), he climbs at a pretty slow pace.
One thing about JDRF rest stops, they are plush. A bike mechanic had Jeffrey's bike fixed in a jiffy while we looked at all the food choices piled on the tables and refilled water bottles. Volunteers cheer and clap as we arrived and a women with a mister sprayed you down if you wanted.
The ride to the second rest stop was over gently rolling hills. We picked up the pace slightly. It was the third rest stop in Vergennes that I worried about. The town is at the top of a bluff, and the climb is killer. Many riders walk up - it's that steep. (I did successfully ride to the top in case you wondered....).
At the top, we find Amy. Andy had left her behind because he wanted to go faster. She waited the 25 minutes for us to show up so she'd have riding partners.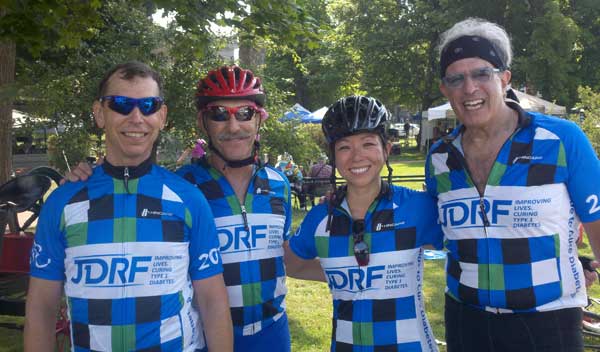 The four of us drop down from Vergennes and begin the longest climb of the day: one and quarter miles of moderate uphill. I pace Amy to the top while Steve holds back and paces Jeffrey. We regroup at the top. The rest of the ride, to the turnaround point in Middlebury and the return trip to Vergennes, we follow the same protocol: Steve and I take turns ensuring Jeffrey has someone with him, while the other rides a little faster with Amy up front, stopping periodically to regroup. Repeat.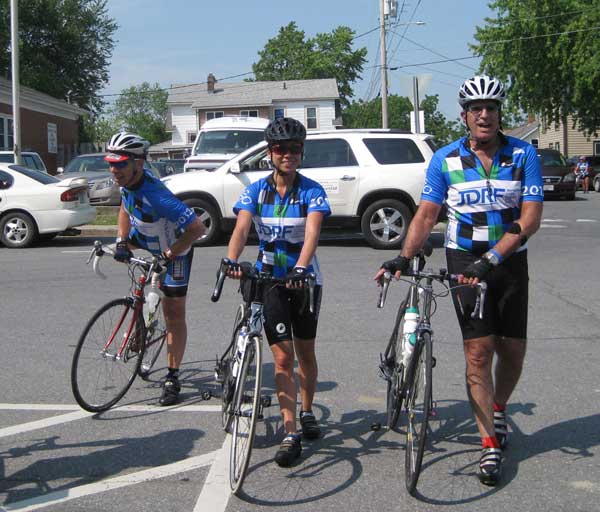 The one and quarter mile hill we climbed on the way out is now a downhill on the way in. I get into a tuck and drop everyone! I don't know why, but on all the downhills, I start rolling away from the peloton. Get into a tuck, and it's like I have rockets on my backend. Maybe it's the extra weight I'm carrying this season, or perhaps the gods are happy with me for some reason.
We climb back into Vergennes. Fortunately, it's up an easier hill. By this time, Amy is flagging a bit on the uphills but still maintains a nice pace on the easier sections. The easier pace were keep does make for good conversation. I learn that Amy does event planning in New York City, and Jeffrey spends his free time mountain climbing all over the world.
Things slow down more as we ride the gently rolling terrain (most of the time) from Vergennes to the last to food stops. The heat doesn't help - it's well into the 90's. The headwind we fought on the way out ("I can't wait for the tailwind back!") has completely died, There are sections of road where we feel we're riding in an oven. More and more riders are stopped on the side of the road trying to cool off. The many SAG vehicles (this is a very well supported ride) check to make sure we're OK. We all struggling a bit, but we're all stubborn and put on a happy face, hoping we won't actually need to flag a vehicle later.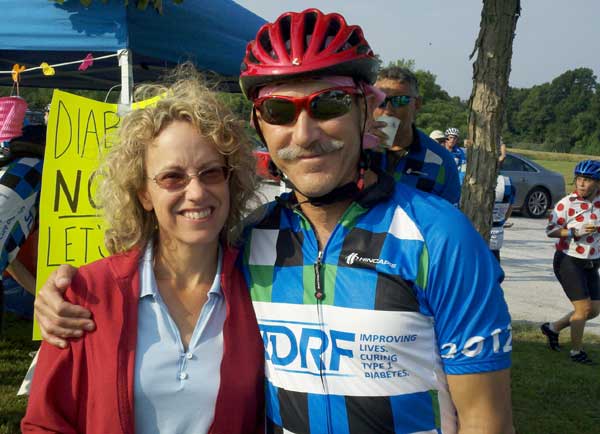 Just before the final food stop, Amy volunteers to ride with Jeffrey so Steve and I can pick up the pace. Thank you thank you thank you Amy! Steve and I fly off the front.
We do stop at the final food area to refill water bottles, and I make a fatal mistake. So far, I've been using Hammer Nutrition products for my feeds, bypassing the copious food offered at the stops. (Well, to be truthful, I dug into the incredibly juicy watermelon at each stop, and there was that veggie sandwich at the halfway point that went down so well...) At this stop, I throw down some handmade trail mix before we take off. The heat, the 8 hours we've been on the road, and the unfamiliar riding food causes my stomach to shutdown.
At eight miles to go, it's the worst climb on the day: Irish Hill.
The sun was beating down on me and the heat was boiling off the pavement, not that I really noticed: this hill is long and STEEP. The pedals were barely turning over. I tried sitting in the saddle...but for long. My pedaling was so slow I worried I'd fall over. I had to climb out of the saddle so I could put my full body weight on the pedals. Walking was not an option; I would not give into the hill and heat.
I find Steve in the shade just around the corner as I crest the hill. I'm now feeling nauseous. The rest of the ride is rolling terrain with a couple steep climbs. The gentle climbs are no problem, but the steep albeit short climbs send my legs into a quiver and Steve has to slow his pace so I can keep up. I feel terrible.
But we do finish and ride across the finish line together to cheers, loud music, ice cold towels, a required medical check, and more food and drink. I last about 10 minutes before I realize I need to find some place cool. I head out of the tent to the bike storage area in the hotel, lay on the cool, carpeted floor, put my feet on a chair, and let the blood rush to my head and stomach. The evaporation of sweat from my jersey and shorts cools me even further in the air conditioning. I'm there until I start feeling normal again, maybe 20-30 minutes.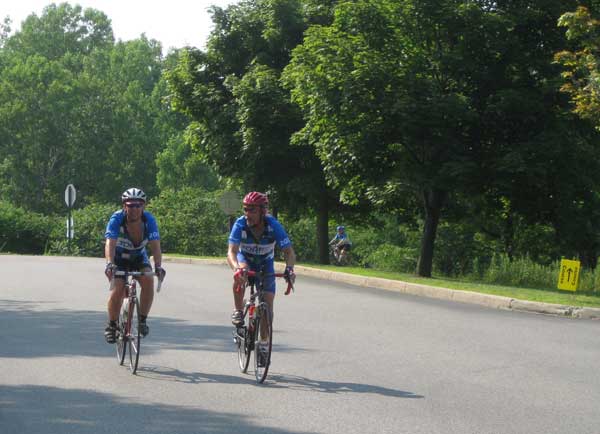 I rejoin the team. Amy, Jeffrey, and Andy are all in - everyone has made it all the way, everyone was able to climb the final hills without walking. We've won! A shower and a short nap later, I'm back to normal.

As of this writing, I've raised $4,400 toward the cure of Juvenile Diabetes. The donation site is up for another couple weeks. If you haven't donated and want to make my suffering count for even more, please donate by pressing the Orange donate button. I'll appreciate it, as well all the family, friends and acquaintances suffering from T1D.
Steve and me? We're already planning for next year's ride...