"Humm," I thought as I paged through the Cross Country Ski Shop's summer sale catalog. "Dick's carrying the Ski Skett Shark rollerski now. I'll have to get him to let me try a pair. Wonder why he added the Shark after years of only selling Jenex?"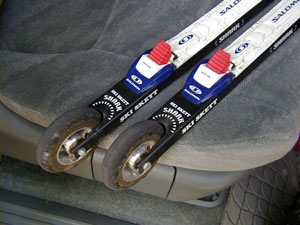 I got my chance after this year's Michigan Cup race committee pre-season meeting. A group of us, including Dick, went out for a rollerski on the roads near Higgins Lake.
We skied over a wide variety of roads: flat roads and hilly roads, smooth pavement and rough, clear pavement and pavement lightly covered with sand or rocks. I'd skied many of the same roads the day before on both Aero 150's and 125's, so I can use them as a basis for comparison as well.
Conclusion: Overall, the Shark is a great alternative for people skiing on smooth to medium-rough pavement.
Ski Skett Shark Skating Rollerski Facts

Wheel diameter:
100 mm
Wheel width:
23 mm?
Wheel Speed:
Medium Speed Rubber
Frame/Shaft Length:
625mm (tested) or 695mm
Weight:
1.4g
Boot & binding used for testing:
Salomon Carbon Pro Skate boot & Profil binding.
Another skinny-wheeled ski...
The Shark has 100mm diameter wheels similar to the Pro-Ski S3 or Marwe 610. It felt very light weight under foot, partly because the shaft is short and partly because the aluminum frame is designed to be light.
Rough pavements and rocks
Compared to the Pro-Ski S3, the Shark wheels have more rubber and less hub, making the ski very quiet.
I went out of my way to roll over twigs, cracks, and small rocks: no problem. A little bit of sand on the road? No problem. Lots of sand? Not recommended. I was surprised by how comfortable the Sharks were on medium rough pavement. On smaller diameter wheeled skis, the vibration caused by such pavement would make my feet feel like they were going to sleep. On a fast downhill, I did feel a little vibration, but not too bad. Not as comfortable as an Aero, but much better than small diameter wheels.
The skis felt fairly stable - much more so than the Aero 150 and a little more than the Aero 125. Unfortunately, I didn't have my pair of Pro-Ski S3's with me - it would have been great to do side-by-side comparison of the two skis.
Overall, I felt comfortable rolling over rougher terrain without having to pay too much attention to what I was rolling over.
Speed and Climbing
With the medium-speed rubber wheels, the skis were a little slower than the Aeros everyone else was on. On downhills, I could get into a low tuck and out-glide anyone in a higher tuck, so I don't think they were that much slower.
I sure enjoyed the low weight and short length climbing hills. It almost felt like nothing was on my feet!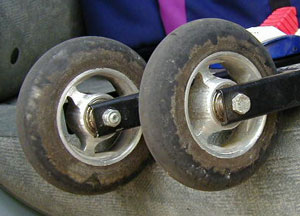 Downhills
On a longer, steeper, medium rough downhill, I was able to control my speed to some extent by snowplowing, but it wasn't easy. I tried snowplowing on a flatter, smoother section of road with more success - better then trying to snowplow with an Aero 150, worse than with a Pro-Ski S3. Practice your snowplowing before you actually need it - use a wide "V".
Wet pavement
Alas, we had a perfect day for rollerskiing. No wet pavement anywhere. Guess I should have grabbed a sprinkler and wet down the road...
No fenders on the skis means you'll have wet legs in damp weather.
Wheel Durability
I didn't ski the Shark's long enough to know how durable the wheels might be.
Snow Feel
I felt the Sharks had a "deader" feel compared to the more lively S3's. This was probably because of the thicker rubber on the wheels.
The short shaft makes the ski very maneuverable. I would have liked to have tried the longer shafts - I think they would track more like a normal ski (which is less maneuverable).
Bottom Line
If someone gave me a pair of Sharks, I'd call them my friend! It rolls nicely, handles the bumps, tracks well, and has a ski -like speed. Snowplowing is passable. I particularly like the lightness of these skis! These are very nice rollerskis.
Full Disclosure: This web site's policy is that authors fully disclose any affiliation it has with vendors when reviewing their gear. In this case, the Cross Country Ski Shop which carries the Ski Skett Shark, pays to advertise on this site. I also used to be on the Cross Country Ski Shop Ski Team before I formed Team NordicSkiRacer.com (although Dick claims I was only on his team so he'd have someone to beat!). - Mike Muha