A year ago today I wrote, "I love the Pro-Ski S3. I'm not sure I want to give them up and return to my V2 [Aero]'s. If my budget allows, the S3 will become my new skating rollerskis." Well, the budget allowed, and I've been skiing them every since.
If you remember, I wanted a rollerski that rolled over bumps, sticks, rocks, and sand. And I'd rather have a little slower ski because the trails I frequent are busy. And I like to control my speed on downhills - I want to stop at that stop sign at the bottom of the hill.
So, do I still like 'em? Do they still meet my needs?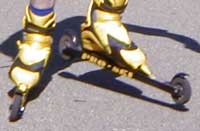 Stability
I still find the S3 a very stable rollerski. I'm very comfortable skiing hard and fast on them. For kicks, I did an interval session a couple days ago on my V2 Aero 150's for comparison purposes. I felt much more tipsy on the Aero's. Part of it was I just wasn't used to the Aero's (it was my first time on them this year), but clearly the Pro-Ski S3 is a more stable rollerski.
Speed
The little slower Pro-Ski S3 works well for me. There's only one problem: I have to work harder to keep up with people using Aero's! And if it's an easy endurance session, I'll often just have to let them go in order to keep my heart rate in the right zone. As I watch go off into the distance, however, I think, "Ha! Wait till we're on snow!"
Rough pavements and rocks
Putting my V2 Aero's back on reminded me that they certainly are the Cadillac of comfort. Still, the S3 has successfully rolled over twigs and small rocks without a problem. I do miss the Aero's comfort rolling over big cracks in the pavement.
Downhills
Because the skis feel stable, downhills feel stable. Jumping into a snowplow has not been a problem. On unknown terrain with long, steep downhills, I'd probably take out the Aero's with their speed reducers for that extra margin of safety. Everywhere else, the S3 has worked exceedingly well.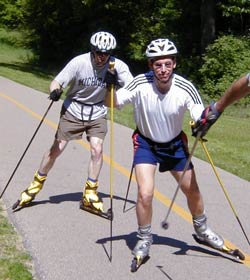 Mike Muha (front) and Mike Heidinger on Pro-Ski S3 Rollerskis at Kensington Metropark near Brighton, Michigan.

Wet pavement
When I wrote the original review, I had yet to ski in the rain with the S3. It's been raining all spring and summer in Michigan, so there's been no lack of wet pavement to test wet weather performance.
First, the fenders are quite effective and very appreciated. I end my ski without a bunch of mud or crud on my legs, and my boots aren't soaked. I don't know about you, but I hate water sloshing between my toes when I rollerski. Fenders are the way to go!
In terms of slipperiness, the V2 Aero performs better on wet pavement than the Pro-Ski S3. The S3 is not bad, but you do need to watch for damp paint and wet fresh tar.
Wheel Durability
The Aero's were the most economical rollerski I'd ever owned: the wheels last a long time, and the replacement wheels aren't that expensive.
The S3's appear to have equal wheel durability, with the added benefit of not having to worry about flats! One year later, I'm still on my original set of wheels, and there's plenty of rubber left. My guess is that I'll make it through the rest of this year before I have to buy new wheels!
Unlike the Aero, and like most other rollerskis, the wheels do wear unevenly - the high point of the tire wears moves off center. From a performance perspective, this has not been a problem: the movement is minimal (a couple millimeters) because the narrow tire. Rotating skis every session keeps the problem at bay.
Snow Feel
Outstanding! I was skiing at Forbush Corner on nicely groomed skating trails early last winter and thought to myself, "This feels just like rollerskiing on my S3's!" I've never, ever had that experience before! My skis tracked the same as my S3's and they had the same resistance to the snow as my S3's had to pavement. I was surprised and more than a little pleased!
Fun
The combination of light weight, confidence from having a stable rollerski that rolls over most minor obstacles, and snow-like feel make the Pro-Ski S3 a winning ski with me. I've enjoyed them immensely, unless I'm trying to chase down skiers on faster rollerskis!
Highly recommended for anyone who wants a little slower ski!
Full Disclosure: This web site's policy is that authors fully disclose any affiliation it has with vendors when reviewing their gear. In this case, TorbjornSport.com, the reseller of Pro-Ski rollerskis, pays to advertise on this site. - Mike Muha