As anyone who's looked at the Equipment section of this web site knows, I'm a big fan of V2 Aero 150S rollerskis. I've enjoyed the confidence of using them in the dark or on rough pavement because I know they'll simply roll over rocks, sticks, and road salt as if they weren't there.
This spring, Torbjorn Karlsen and I exchanged a number of e-mails about rollerskis. He thought the Pro-Skis he sells were better for training and technique than V2 Aeros. He finally offered to loan me pairs of S3, S2, and C2 rollerskis to try out as long as I would also review them for the web site.
So, over the past few weeks, I've been skiing on pairs of Pro-Ski S3 Skate, S2 Skate, and C2 Classic rollerskis. This review compares the S3 to the Aero 150 skate rollerskis (reviews of the other models forthcoming).
Conclusion: I love the Pro-Ski S3. I'm not sure I want to give them up and return to my V2's. If my budget allows, the S3 will become my new skating rollerskis.
Pro-Ski S3 Skating Rollerski Facts

Wheel diameter:
100 mm
Wheel width:
23 mm
Frame/Shaft Length:
800 mm
Weight:
1.6 kg
Boot & binding used for testing:
Salomon Carbon Pro Skate boot & Pilot binding.
My Criteria
Different people want different things from a rollerski. For me, safety is probably weighted the highest when I choose a rollerski. I want a rollerski that rolls over bumps, sticks, rocks, and sand because I'll frequently rollerski at night when visibility is poor. And I hate having to worry about falling when I'm doing intervals! I'd rather have a little slower ski because the trails I frequent are busy. And I like to control my speed on downhills - I want to stop at that stop sign at the bottom of the hill.
Wow, those a skinny wheels...
Having skied on the V2 Aero's 31 mm wide wheels for hundreds of miles and knowing them to be a bit unstable, I was a little apprehensive about balancing on the S3's narrow 23 mm wheel: "I bet they're a bit unstable," I remember thinking to myself. But for some reason that I'm at a loss to explain, they're more stable than the Aeros. In fact, they're one of the most stable rollerskis I've skied. I adjusted to them instantly the first time I put them on at the GRNST/John Aalberg training camp.
Thinking the stability was an artifact of my Carbon Pro boots, I had Ryan Robinson give them a try with his Pilot boots. Ryan's been rollerskiing for less than a year and uses V2 Aeros. Same opinion - the S3 is more stable than the Aero 150S.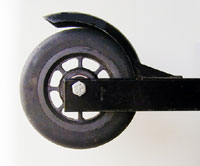 Speed
These skis are not super fast. One skier said he couldn't easily keep his heart rate in Zone 1. Another skier said, "They feel like my Aero's with 30 lbs of pressure in them" (Aero tires are supposed to be inflated between 55 and 95 lbs psi ).
For someone who puts more time in rollerskiing than any other sport, I liked the speed. Slow enough to have to work a little in interval training, slow enough not run over runners, bladers, and bikers with whom I share the trail, but not too slow for me to stay in Zone 1 over a distance session. One of my few complaints about my V2 Aeros was how fast they were, even at minimum tire pressure.
Speed's going to be an individual preference. When I was less strong, slow wheels were frustrating and I found it hard to get motivated to rollerski. As a stronger skier who shares busy bikes paths with runners, bikers, bladers, and little kids on trikes, a little slower ski works well for me.
Rough pavements and rocks
V2 Aeros are the Cadillac of comfort: they roll over anything and you can even use them on dirt roads. The S3's 100 mm wheel are almost as effective. Although I wouldn't do a dirt road ski on them, I have easily skied over a dirt road that divided a bike path. In my testing I went out of my way to roll over twigs and small rocks. I experienced no problems: no sudden stops, no sliding, nothing.
Downhills
Some folks, me include, like speed reducers on their rollerskis. They make downhills safer and they can be used for regulating how hard you want to work during the session.
The S3 does not have an option for speed reducers. But they are quite effective in a snowplow. The trick is to get into a very wide "V". Practice before you actually need it! I felt quite comfortable snowplowing on the S3. Snowplowing on the Aeros is a bit more iffy... Use the speed reducers.
Still, on trails I'm not familiar with or routes with big downhills, I'd use my Aeros with their speed reducers for that extra margin of safety.
Wet pavement
Haven't had the opportunity to try the S3's in the rain yet, so I can't tell you how much they slip on pavement or traffic lines. I do know that the Aeros tend to be pretty good in rain.
The Pro-Ski S3's fenders look like they'd be effective in keeping spray from going up the back of your leg, but again, I haven't been on wet pavement. Aeros? With big wheels and no fenders, expect mud up your backside all the way to your head, with water running down your legs into your ski boots. Not very pleasant when rollerskiing in a cold November rain.
Wheel Durability
The Aeros have been the most economical rollerski I've ever owned: the wheels last a long time, and the replacement wheels aren't that expensive. I've been fortunate not to have any flat tires - they're probably less economical for if you flat a lot.
I haven't skied on the S3's long enough to know how durable the wheels are.
Snow Feel
What an elusive concept. I don't know about you, but snow can feel like sandpaper one day and greased lightning the next, soft and fluffy to ice-rink hard. From the way the rollerskis skate when you push off, I'd probably give the edge to the Pro-Ski in the area of snow feel. The 60 lbs psi I put into the Areos make them feel a little "bouncy" or soft. The Pro-Ski feels like it tracks a little more like snow skis.
Bottom Line
Because the Pro-Ski S3 is a little slower than the Jenex Aero 150S but offers better stability, almost equal ability to roll over obstacles on paved trails, fenders, and some speed control on downhills via snowplowing, I feel the S3 very closely matches the criteria I look for in a rollerski. When I grab a pair of skaters from the back of my minivan, I've instinctively gone for the Pro-Skis instead of my Jenex's.
Pro-Ski S3
Jenex Aero 150
Pro
Stable.
Rolls over most obstacles.
Rain fenders.
Light.
Snowplows well.
Snow-like speed.
Speed reducer option.
Rolls over all obstacles.
Speed adjusts from fast to faster.
Long wheel life.
Good in wet weather.
Great for dirt roads.
Con
No speed reducer option.

Less stable.
Chance of flat tires.
Heavy.
No rain fenders.
A little too fast for my tastes.
Unknowns
Wheel durability.
Wet weather performance.
Full Disclosure: This web site's policy is that authors fully disclose any affiliation it has with vendors when reviewing their gear. In this case, TorbjornSport.com, the reseller of Pro-Ski rollerskis, pays to advertise on this site (assuming I ever get around to sending an invoice). - Mike Muha