I've been skiing on Jenex 900-series classic rollerskis for years. For the most part, I've liked them - they're light and you can buy different speed wheels for them. But I've been disappointed with their ability to go over stones and sticks, and the wheels wear quite fast. And as the wheels wear, instability increases, especially on downhills. I've taken to using on old pair of skating boots in order to maintain control over them.
I'd been interested in trying some other classic rollerskis, so when the opportunity came along to try out a pair of Pro-Ski C2 Classic rollerskis, I jumped at it.
Pro-Ski C2 Classic Rollerski Facts

Wheel diameter:
67 mm
Wheel width:
50 mm
Frame/Shaft Length:
790 mm
Weight:
1.6 kg
Ratcheted wheel:
Rear wheel, but you can move it to the front.
Boot & binding used for testing:
Salomon Carbon Pro Classic boot & Profil binding.
My Criteria
My criteria for classic rollerskis is similar to what I want for skating rollerskis:
Safety: I like a rollerski that rolls over bumps, sticks, rocks, and sand. Tracks straight. Downhill stability. Someway to slow down on downhills.
Not too fast: Many other people use the trails I use. And rollerskiing is a privilege, not a right - I'd hate to get thrown out by a park ranger for going too fast.
Durability: Durable wheels make for a lower total cost of ownership.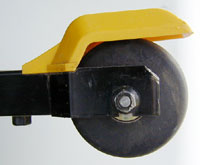 Stability
The Pro-Ski C2's wheels are 10mm wider than the Jenex 900 Series (50mm vs. 40mm) and 3mm smaller in diameter. The extra width does make the ski somewhat more stable. The ski still wanders a bit in fast downhills, particularly if you weight the front of the ski. Heel-weighting seems to give me a little more control, but I'm still experimenting.
A couple of times when I made a sharp turn, I rolled the ski over enough that the axle bolts hit the pavement. I attribute this to the wider wheel. As I got used to the ski, the problem went away. This is certainly not a skating ski!
I've been able to use my normal classic ski boots with no problems.
Speed
The goal in classic rollerskiing is to doublepole and kick-doublepole, not to diagonal stride. Many people who try to diagonal stride tend to have late kick - they push too long, which drops their center of gravity back. If the rollerski is too slow and your upper body too weak, you'll be forced into a diagonal stride.
I like the speed of the C2 - similar to an Aero 150 pumped up to 55-60 psi. They're fast enough that I can doublepole and kick-doublepole up most hills while maintaining technique, but not too fast for the trail.
I've doublepoled at top speed on flats and felt total comfortable on the ski.
Rough pavements and rocks
The wider and somewhat soft wheels do a very effective job soaking up most bumps. I haven't had any real problems with small sticks and rocks. They're definitely not as good as big-wheeled skating skis (the Aero or the Pro-Ski S3), but they're more comfortable and confidence inspiring than the Jenex 900.
The C2 has a large bolt sticking out of the bottom of the ski, both front and back. The bolts hold the wheel assembly onto the frame. At first glance, you'll think that the bolts will bottom out when you ski over bumps. In reality, the ski - with bolts - equaled or bettered my other rollerskis in bump clearing ability.
Downhills
Snowplowing on the C2 is only fair. Fortunately, optional speed reducers are available (not tested) - recommended if you have hills with stop signs, traffic, and corners.
I successfully rolled off the pavement onto grass at a moderate speed without launching myself - I pushed one foot forward, heal weighted, and rolled to a fairly rapid stop.
Wet pavement
I did get caught in the rain. Like most rollerskis, you'll want to avoid painted lines - not much of a problem for classic skiing.
The fenders were very effective in keeping water and dirt off the backs of my legs. There was some minor side splash, but at the end of the session, my ski boots did not have puddles in them as they normally do on my Jenex 900's.
Wheel Durability
I have not skied long enough on the C2's to gain personal experience with wheel durability. One of my training partners has a pair, however, and claims the wheels are quite durable. A few others I've talked to claim the C2's wheels easily outlast Jenex 900 wheels.
I'll give you a first hand report as soon as I wear a wheel out.
Snow Feel
Classic skiing on two-wheeled rollerskis: Great kick like you're in the perfect tracks, but wandering wheels like you're trying to classic in the skating lane. The C2 seemed as straight or straighter than other classic rollerskis I've tried, particularly on the post-kick return.
After a three-hour plus rollerski, I did notice that the C2 is heavier than my racing skis and my 900's: there were some muscles getting tired that normally don't when I'm out for a long snow ski.
Bottom Line
I like the Pro-Ski C2 Classic Rollerski. It's better over the bumps than my current rollerskis, has much better rain fenders, feels more stable, and allegedly has better wheel durability. They could be a little lighter, but they'll do.
I've asked my wife to buy me a pair for my birthday...
Pro-Ski C2
Jenex 930
Pro
Speed reducer option.
Fairly stable.
OK over sticks & rocks.
Great rain fenders.
Not too fast, not too slow.
Supposedly have fairly durable wheels.
Speed reducer option.
Light.
Not too fast, not too slow.
Can buy different speed wheels.
Con
A bit heavy.

Less stable, especially after the wheels wear.
The wheels wear fast.
Inadequate rain fenders.

Full Disclosure: This web site's policy is that authors fully disclose any affiliation it has with vendors when reviewing their gear. In this case, TorbjornSport.com, the reseller of Pro-Ski rollerskis, pays to advertise on this site (assuming I ever get around to sending an invoice). - Mike Muha