I finally made a decision to purchase a new set of rollerskis, and I chose the Elpex F1s. I know there are a bunch of folks out there wondering about which brand/model to purchase, so I thought I'd give my reviews of the F1s.
First of all, they are one of the least expensive models out there. With the economy in a bit of a tailspin (now that we have another round of tax cuts, I certainly hope they help!), price was a factor. Elpex won on that front. (Marwe and the Aeros are more expensive).
My previous set of skate rollerskis were the Jenex VS 850s. I really like the 850s. nice, pretty smooth ride, and durable. I went through 3-4 sets of wheels on the 850s, and really enjoyed the training. But I kept having to look down at the road to ensure I wouldn't hit any rocks or small potholes...I'm sure my form wasn't always perfect.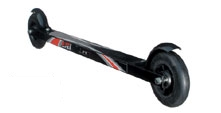 The F1s have a much narrower and larger diameter wheel. From a safety standpoint, they are, IMHO, much better. I find that I concentrate on skiing more than I did before. My training area isn't always free of debris, so I like the fact that I can ski with less concern for falling. (And if anybody is wondering, wearing a helmet always makes sense when rollerskiing, no matter how smooth the road! Safety should always be a concern.)
The relative slow speed of the F1s is great with me. I liked the 850s because they are medium/slow speed. From a training perspective, that was key. The F1s are, qualitatively, about the same speed. I'm sure if someone measured the coefficient of friction on the two sets of bearings, one would be faster, but that really isn't the point. From a training perspective, they seem the same speed. I really feel the extra burn on uphills.
Stability isn't a problem. When I was shopping around for the F1s, a sales person mentioned that I might have a problem with stability from the wider 850 wheels to the more narrow F1s. valid point, but it wasn't an issue with me. My first time out, I was cognizant that the F1s were more narrow. I took it easy initially, but found that the width of the wheels wasn't an issue at all.
As for the other rollerski brands that I didn't choose...
Marwe - was simply a pricing issue. they seem to be great and well loved by the Minnesota crowd.
Pro-Ski - pricing.
Aeros - price was a factor, but too many problems with the wheels was the main concern. Also, too much complexity. I wanted to pop-into my bindings and head out for a ski. The Aeros need more attention before skiing (measuring psi of the wheels each time), and the risk of tire problems were a definite concern. I'm sure Jenex will fix all the problems, but until they do, I will continue to ski on my non-pneumatic wheels, though the pneumatic wheels are a great idea!
I definitely recommend the F1 to all.
Read Brian's May 14, 2004 update to this review here!
Elpex F1 Skating Rollerski Facts

Wheel diameter:
100 mm?
Wheel width:
22 mm
Frame/Shaft Length:
675 mm
Weight:
1.3 kg per pair
Strength, Balance, & Core training for the Nordic Skier


Help support the NordicSkiRacer web site!

NordicSkiRacer
says, "Join the AXCS today! Promote XC skiing & get great benefits for yourself."


Recommended