There are 95 Items in 7 pages; you are on page number 7
Where's the Snow?
Sun, Jan 16, 2005 - By Carole Mueller-Brumbaugh

The seasoned diehards of GRNST, Ernie Brumbaugh and Old Steve Smigiel, found a solution to cross country skiing when there's no snow: Ice blades with skate bindings on them.
Product Review
Sun, Dec 21, 2003 - By Jim Hull
Wow. Iíve tried numerous other brands (Madshus, Fischer, Atomic, Peltonen), and to date NONE of them have worked like this.
Product Review Update
Sat, May 17, 2003 - By Jim Hull
Now that this is the end of a 45+ outing's season with my 2004 Rossi F2's and my Atomic 2002 RS10's, I'm ready to more fully evaluate them in combination with my switch to NNN and Rossi boots.
Looking for Mont Ventoux
Thu, Aug 1, 2002 - By Greg Worrel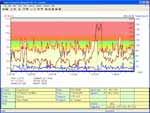 Mont Ventoux rises 5280 feet in 21km at an average grade of 7.6 percent. Lance made the fastest climb to the summit in Tour history. He climbed it in 58 minutes. So how do the local grades around Kensington Metropark compare? I set out to find out.
Heart Rate Monitors
Tue, Jan 8, 2002 - By Greg Worrel
Chestnut Hill was my first race using a new Polar S-710 heart rate monitor which captures heart rate data every 5 seconds. It stores many hours of data which can be uploaded to a computer and saved in a workout and analysis program that Polar provides.
Strength, Balance, & Core training for the Nordic Skier


Help support the NordicSkiRacer web site!

NordicSkiRacer
says, "Join the AXCS today! Promote XC skiing & get great benefits for yourself."


Recommended