There are 520 Items in 44 pages; you are on page number 44
Mon, Feb 10, 2003 - By Dan Johnson
Here's a couple of low tech solutions which seem to work very well for making a *flat*, *square* edge on a Plexiglas scraper.
Fri, Jan 3, 2003 - By Mike Muha
Toko has a new "Waxing & Tuning" narrated video CD that reviews base repair, cleaning, and waxing of both classic and skating skis, for both racer and novice waxers.
Looking for Mont Ventoux
Thu, Aug 1, 2002 - By Greg Worrel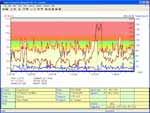 Mont Ventoux rises 5280 feet in 21km at an average grade of 7.6 percent. Lance made the fastest climb to the summit in Tour history. He climbed it in 58 minutes. So how do the local grades around Kensington Metropark compare? I set out to find out.
Heart Rate Monitors
Tue, Jan 8, 2002 - By Greg Worrel
Chestnut Hill was my first race using a new Polar S-710 heart rate monitor which captures heart rate data every 5 seconds. It stores many hours of data which can be uploaded to a computer and saved in a workout and analysis program that Polar provides.
Strength, Balance, & Core training for the Nordic Skier


Help support the NordicSkiRacer web site!

NordicSkiRacer
says, "Join the AXCS today! Promote XC skiing & get great benefits for yourself."


Recommended