There are 520 Items in 44 pages; you are on page number 35
Tue, Aug 28, 2007 - By Joe Gollinger

Go Faster Boot & Binding System parent company ProSkate of Maniago Italy has announced Chi-Town Sports will be their exclusive distributor in North America.
Wed, Aug 22, 2007 - By Mike Muha
Topher Sabot of Brainspiral Technologies has reportedly purchased the popular FasterSkier.com web site.
Wed, Aug 22, 2007 - By US Ski Team

The U.S. Ski Team has named Italian ski wax company Maplus as an official supplier of the Team, providing wax and technical services, according to Associate Athletic Director Dale Schoon.
Mon, Aug 6, 2007 - By Mike Muha

Here are step-by-step instructions for mounting a Vasa Ergometer to a wall where you can better replication ski-specific motions than by using the Ergometer in it's original configuration.
Review
Mon, Jul 30, 2007 - By Spencer Ruffner

I use a Gamin Forerunner 305 combination heart rate monitor and GPS. I'll describe the the graphs and information displayed from my recent Ryanman Triathlon effort on July 14 with Ryan Robinson.
Review
Tue, Jul 24, 2007 - By Mike Muha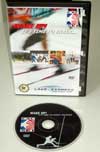 This DVD is geared toward the racer. Almost everything in the DVD is of use by the serious master skier. Just having videos of different drills - both technique, speed, and strength - made this video very worthwhile for me.
Sun, Jul 22, 2007 - By CXC Skiing
CXC Skiing will auction titanium hand build custom sized Eriksen road and mountain bikes with a value exceeding $5,000 each to support the CXC Ski Team – Olympic Development Program.
Fri, Jul 20, 2007 - By CCSS
The annual Cros Country Ski Shop SUMMER SALE runs from Friday, July 20 through Wednesday July 25, from 10am to 5pm.
Tue, Jun 26, 2007 - By Jerry Kokesh
Since April of 2007, the National Team under Coaches Mikael Lofgren and Per Nilsson have used the RS800 Running Computer and adoSTART Fusion apparel in their daily training. Both coaches described their experience as 'Super!'
Mon, Jun 18, 2007 - By Mike Muha

Sweat dripping into your eyes while out biking, rollerskiing, or running? Here are two products that claim to keep the sweat out.
Tue, May 29, 2007 - By Mike Muha

The Vasa Ergometer is not a rollerboard; Instead, the Vasa Ergometer uses a variable airflow wind resistance system designed around a flywheel: the harder you pull, the more resistance you feel. Think Concept 2 rowing ergometer, and you get the idea.
Tue, May 22, 2007 - By Mike Muha
OK, not really, In fact, I'm on my to my basement to work on my skis right now. But if you have a bases that don't hold wax or are not flat, why not send them off for a base grinding and waxing well before you need them this coming winter?
Strength, Balance, & Core training for the Nordic Skier


Help support the NordicSkiRacer web site!

NordicSkiRacer
says, "Join the AXCS today! Promote XC skiing & get great benefits for yourself."


Recommended