There are 520 Items in 44 pages; you are on page number 28
Hairies
Tue, Nov 25, 2008 - By Andrew Gerlach

Zero skis have a rubber inlay in the wax pocket zone that needs to be prepared before skiing. Rubbing the base of the ski makes the hairs, which lie in the base material, stand up. These standing hairs provide the grip needed for wet/zero snow conditions.
Skate Rollerski Review
Wed, Nov 19, 2008 - By Mike Muha

The Maplus Speed skate rollerski is fast and fun on the open pavement. Using an 83mm by 27mm wheel - smaller and wider than many skate rollerskis these days, the Speed flys!
First looks
Wed, Nov 19, 2008 - By Mike Muha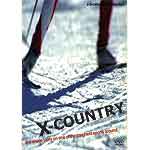 The movie gives you also a professional picture of "the life of a skiing star". You will meet all the stars! You will even get some easy but professional lesson in skiing-technique, waxing and ski clothes.
Wed, Nov 12, 2008 - By Chuck Zagozdon

The new pole promises spectacular weight savings as well as being promoted as the first "all-natural" performance ski pole - one that uses no hydrocarbons in its manufacturing process.
Fri, Nov 7, 2008 - By Mark Waechter
Here's a copy of Nordic Ultratune's November Newsletter!
Thu, Nov 6, 2008 - By Mike Muha
Dick Fultz at the Cross Country Ski Shop in Grayling, MI, has last year's Toko HelX spray on sale for $79.00.
Mon, Nov 3, 2008 - By Peter Manning
Don't wait until the first blizzard of the season! Call to discuss our end of the year incentives, order your custom team apparel NOW!
Mon, Nov 3, 2008 - By Toko

Toko has introduced three new sets of top-coat races waxes for the 2008-2009 cross country ski season. JetStream Bloc, JetStream Powder, and HelX now come in Blue, Red and Yellow formulations.
Fri, Oct 31, 2008 - By Ulf Bjerknes
Steven Poulin has been named the new president and CEO of the Swix Sport USA. This change signifies a new focus in Swix Sport Inc.
Tue, Oct 28, 2008 - By Salomon

Salomon Warm and Cold Skis, both skate and classic, have bases and ski molds designed for the characteristics of warm and cold snow.
Tue, Oct 21, 2008 - By Mark Waechter
At Ultratune, a grind batch starts every Thursday and those skis are ready for shipping on the following Monday, just 4 days later. Return shipping is FedEx Express Saver, which is 3rd day deliver.
Tue, Oct 21, 2008 - By WADA
WADA reports no departures from the IOC-Anti-Doping Rules (IOC-ADR), Technical Procedures or International Standards were observed that would invalidate the doping control results reported from the tests at the Olympic Games in Beijing.
Strength, Balance, & Core training for the Nordic Skier


Help support the NordicSkiRacer web site!

NordicSkiRacer
says, "Join the AXCS today! Promote XC skiing & get great benefits for yourself."


Recommended