There are 198 Items in 14 pages; you are on page number 1
Tue, Feb 4, 2014 - By Fast Wax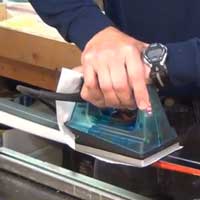 One of the big mysteries in skiing has always been how to iron in the top coats without damaging your base? We're going to show you how using a new product called Base Saver.
Fri, Apr 26, 2013 - By Ian Harvey

Here are Toko's recommendations for storage waxing of skis. First clean the skis well. This can be done with wax remover or by simply brushing the bases out well with a copper brush depending on how dirty they are. Then...
Thu, Feb 7, 2013 - By Ian Harvey

The most basic aspect to cold waxing is that the base needs to be hardened a lot. Additionally the wax selection needs to be good. Application method is also critical.
Mon, Jan 7, 2013 - By Ian Harvey
The snow was quite abrasive and a 30k classic race including climbing up Hermod's Hill 6 times meant that maintaining kick was critical. Green klister covered by Base Green binder offered the best kick and the best glide and was clearly the most durable.
Michigan Cup
Thu, Dec 27, 2012 - By Mike Muha

UPDATE 2: Wax recommendations for this weekend's Michigan Cup race, the Tour de Ski. Fast Wax, Solda, Swix, Toko, SkiGo/Holmenkol...
Thu, Dec 20, 2012 - By Mike Muha
UPDATE #2: Waxing recommendations for this coming weekend's Michigan Cup race, the Lakes of the North Winterstart. Check for updates!
Fri, Nov 16, 2012 - By Ian Harvey

LF Black is far softer than LF Blue and thus is great when the snow becomes a little warmer (all the way to very wet) and the base wax also needs to address water.
Fri, Nov 9, 2012 - By Toko

The new Tribloc waxes have been tested for 2 years and were used on the World Cup last year. The Tribloc waxes are surely an improvement on the Dibloc waxes in basically all conditions.
Tue, Nov 6, 2012 - By Bert Hinkley

I was waxing at the WebSkis shop when the sun was finally high enough to shine through a skylight directly onto my work area. HOLY WOW, what a lot of dust there was in the air. I was using hand brushes and a low-fluor /hydrocarbon wax
Mon, Oct 29, 2012 - By Mike Muha

Start has two waxing guides: one for the competitive cross country skier, the other for recreational or performance-oriented skiers.
Video
Sun, Sep 23, 2012 - By Mike Muha

A great video to the tune of "Red Solo Cup". You'll never think about klister the same again...
Wed, Mar 7, 2012 - By Bert Hinckley
While at the American Birkie I had a discussion with a dedicated SOLDA wax user about waxing for weekend races 3 to 4 days prior to the race. Here's what I recommend...
Wed, Feb 1, 2012 - By Bert Hinkley

Our old snow in Bend, Oregon, is extremely abrasive and the S30 as a base layer helps preserve the wax, protect the base and enhance the glide. Pretty good stuff and it will not break the wax budget.
Thu, Jan 26, 2012 - By Ian Harvey

For conditions between hard wax and klister, particularly when the snow is abrasive or crushed ice mixed with power, Toko Base Green can be the ticket.
Wed, Jan 25, 2012 - By Ian Harvey

There are three scenarios for Toko grip wax (hard wax). The first is if the snow is normal powder snow or skied in powder. The second is if the snow is partially transformed...
Strength, Balance, & Core training for the Nordic Skier


Help support the NordicSkiRacer web site!

NordicSkiRacer
says, "Join the AXCS today! Promote XC skiing & get great benefits for yourself."


Recommended