There are 95 Items in 7 pages; you are on page number 1
Fri, Mar 7, 2014 - By Mike Muha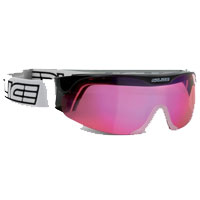 They arrived just before the White Pine Stampede. Even though you shouldn't try something new in a race, they were so cool looking that I had to wear them. Ha! I won the 20k Classic wearing them!
Mon, Dec 9, 2013 - By Mike Muha

The folks at Vasa simply mounted their popular Ergometer on the wall. This configuration makes for a compact training tool that enables skiers of any ability to improve ski-specific power & endurance indoors.
Thu, Nov 21, 2013 - By Ben Wizner

Mt. Borah will showcase its entire custom Nordic line-up at the show, including its newest line, labeled OTW, or Out to Win. OTW, a top-tier line that utilizes Mt. Borah's own lazercut and body-form technology.
Thu, Aug 29, 2013 - By Ben Wizner

With over two years of product development in the books, Mt. Borah's OTW Nordic ski collection is the new edge in custom Nordic apparel for teams, clubs and groups.
Wed, May 29, 2013 - By Rob Sleamaker
The Vasa Ergometer is built to last a lifetime with minimal maintenance. It's easy to keep your Erg working like new, and it won't cost you much more than some elbow grease.
Tue, May 28, 2013 - By Ian Harvey

Toko Care Line products are specially tailored to high-quality outdoor gear and footwear and draw from the company's history as a ski wax provider as well as Toko's partnership with outdoor titan, Schoeller Textiles.
Video
Wed, Feb 6, 2013 - By Fischer Skis

Fischer has developed Cold Base Bonding: a unique process which retains the homogeneity of the original molecular structures by avoiding heat and pressure when the base is added. As a result, you get unrivaled gliding properties and maximum speed.
Wed, Jan 9, 2013 - By Lisa Lazarczyk

Starting now, Karhu North America will begin importing its popular line of skate and classic skis and boots, which are designed, developed and tested in Lahti, Finland.
Wed, Dec 5, 2012 - By Ian Harvey

The Coaches Pack is for a person carrying anything that shouldn't freeze or shouldn't get wet. It has tool and wax compartments. The Start Duffel s the perfect bag to take with you to the start of an event.
Wed, Nov 7, 2012 - By Mike Muha

For 2013, Swix's "screw on" Triac basket has trickled down from the top-of-the-line Triac cross country ski pole to three other poles in the Swix line: the Start TBS, Team TBS, and Carbon TBS poles.
Review
Mon, Sep 17, 2012 - By Mike Muha

The US Biathlon Association decides to dump you. What do you do? Head to Europe to train with the best. And so begins the adventure in Andy Liebner's excellent book.
Tue, Aug 7, 2012 - By Mike Muha

Thibaut Pinot wore a pair when he won stage 8 of the Tour de France and Team Great Britain Men's 8 rowed to Bronze in the Olympics a few days ago donning Salice sunglasses. Salice Italian sunglasses are now imported into the US by Chi-Town Sports.
Thu, Dec 29, 2011 - By Kevin Hayes

With Christmas over, and so many kindles under the tree, I want to let the xc ski community know that at amazon kindle, Kickland is now available as an ebook for just 99 cents.
Swix Camera Pack
Tue, Dec 13, 2011 - By Mike Muha

This belt is more of a specialty belt. My Sony DSC-H50 camera (right) is a little on the large size and doesn't fit into a normal water bottle belt. I need something with a bigger pocket to hold it.
Ultimate Directions Solitaire
Mon, Dec 12, 2011 - By Mike Muha

The horizontal water bottle holder is OK, but the huge cargo space makes this water bottle belt a winner for classic skiers or folks who want to carry more gear.
Strength, Balance, & Core training for the Nordic Skier


Help support the NordicSkiRacer web site!

NordicSkiRacer
says, "Join the AXCS today! Promote XC skiing & get great benefits for yourself."


Recommended