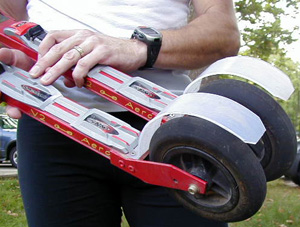 I've been skiing on the V2 Aero for 2 years now. Love everything about them except...water from the rear wheel during wet conditions comes onto the back of my leg and fills my boots up very quickly.
I asked Len Johnson of Jenex of any fender designs for the rear wheel or know of any aftermarket versions. Unfortunately, Len said that requests for a rear fender has been very small, almost non-existent. He said he mentioned to many Aero users that some skiers wanted a fender, but they felt it should be a low priority item. From a cost standpoint, Len said even the simplest injection mold costs about $4000.00 so the return is pretty poor. It's possible an aluminum fender could be designed and tooled for as little as $1,500 and he said when he had some time he might seriously look into it. Len suggested fabricating your own. So until then...
Making Your Own
Here's how I made my own fenders, and these suggestions work for most rollerskis, not just the Aero. I have speed reducers on the front of my rollerskis, so I only made fenders for the rear wheels. If you don't have speed reducers, make fenders for both front and rear - the process is the same:
Buy some polypro PP about 3/32 thick.

Cut it to size using a hand saw. It cuts easily. I also found the polypro could be cut with a utility knife.

Using a heat gun (a hair dryer might work) you can heat and bend it. Notice that I bent a 90 degree angle into the material where it attaches to the rollerski.

Drill two or three holes into your rollerskis and attach the fender with pop-rivets or screws.
There's one problem you may run into: There might not be enough room between your binding/boot and the rear wheel to mount the fender. Before you buy material, make sure you have the room on your rollerski. If you're buying a new rollerski, have the bindings mounted an extra 3/4" forward.
The polypro sheet I bought was from McMaster-Carr (www.mcmaster.com). Another possibility might be using polycarbonate (Lexan) window material, available in a lot of hardware & building supply retailers. The thickness is probably about right, it's heat formable and fairly tough stuff, but only available in clear.
There might be a plastics distributor on the Internet who caters to hobby & small-order customers, but I didn't find one in the search I just did. Most had bigger minimum orders or didn't carry the polypro sheet.
The results have been worth it: my feet stay much drier!