Book Review
A General Plyometrics Reference, But Not Ski Specific
September 18, 2004 - By Mike Muha

Jumping into Plyometrics, 2nd Edition
By Donald A. Chu
1992, Human Kinetics
Why would a Nordic skier be interested in plyometrics? Both classic and freestyle skiing are power - endurance sports, and evolution in technique really pushes the need for power. If you've been following my training log, Torbjorn Karlsen's writings from FasterSkier.com, or writings from the US Ski Team, you'll see the focus an quick, snappy movements. The snap is the application of strength with speed.
Plyometric training specifically links muscle strength with speed of movement to produce power. By training with plyometrics, you're training for increased power. Personally, I'm also finding that I'm making better progress in the weight room since I've been doing some plyometric-type activities.
This week, I'm going to review Chu's "Jumping into Plyometrics." Next week, I'll have a review of a second book, "High-Powered Plyometrics" by Radcliffe and Farentinos.
Jumping into Plyometrics
Chu's book focuses on plyometric jumps (vertical and horizontal), with upper body drills used to enhance jumping ability. After a fairly clear explanation of how plyometrics works, Chu describes warm-up activities, then a classification system for the different plyometrics jumps. He also has a section on the different equipment you can use for plyometrics and on designing a training program.
Much of the description on training programs is not particularly or immediately useful to the cross country skier. He describes specific-sport training programs for a synchronized swimmer, a baseball player, and a soccer player, then programs for increasing vertical and linear jumping, then programs for sports that require lateral movement and change in direction (i.e., tennis and basketball). Each of these programs includes suggestions for resistance training, core strength mainly using medicine balls, and plyometrics. (Most of the suggested resistance and core drills - even the ones using medicine balls - are not described in the book. The book only describes the plyometric drill suggestions).
The Drills
The chapter on specific plyometrics exercises divides 77 drills into the categories described in the first chapter: jumps in place, standing jumps, multiple jumps, box drills, depth jumps, and bounding, plus medicine ball drills. Within each category, drills are ordered by increasing difficulty.
Unfortunately, only 17 of the drills have an upper body or core component (and that may be stretching it). And cross country skiing - especially racing - has a huge core and upper body component to it.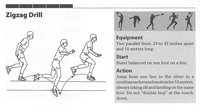 Sample workout from "Jumping into Plyometrics." Click here to enlarge in a new window.
For each specific drill, the book provides a difficulty rating, the sport or activities that would benefit from the particular drill, a list of equipment needed (if any), the starting position, and a description of the action, and drawing of a figure in the act of performing the drill (see the diagram for an example).
I found it somewhat difficult to visualize what I was supposed to do from many of the drawings without reading the description closely.
Everything but Cross Country Skiing
The final chapter of the book matches suggested drills with specific sports. What sports? Baseball & softball, basketball, bicycling, cricket, diving, downhill skiing, figure skating, football, gymnastics, ice hockey, inline/speed skating, netball, rowing, rugby, soccer, squash/racquetball, swimming, tennis, track & field (jumping events), track & field (sprints), track & field (throwing events), volleyball, weightlifting, and wrestling.
So what's a cross country ski racer to do? Obviously, there are similarities between some of the above sports and Nordic skiing. You can coble together some of the drills used for biking, rowing, soccer, speed skating, and weightlifting and come up with a program.
Bottom Line
This book is broad in scope, trying to cover plyometrics for just about every sport there is. There's quite of bit of interesting reading, and I learned a great deal about how plyometrics are used in other sports. But I had trouble trying to apply what I learned to cross country ski training without quite a bit of thought and effort.
If you're a multi-sport person who dabbles in basketball and racket sports, you may find this book very valuable. Endurance athletes may want to read my review of "High Powered Plyometrics" next week before running out and buying this book, however.
Other book reviews related to Strength Training:
Strength, Balance, & Core training for the Nordic Skier


Help support the NordicSkiRacer web site!

NordicSkiRacer
says, "Join the AXCS today! Promote XC skiing & get great benefits for yourself."


Recommended