Book Review
Plyometrics for the Nordic Skier
September 24, 2004 - By Mike Muha

High-Powered Plyometrics
By James C Radcliffe & Robert C. Farentino
1999, Human Kinetics
After I finished reading Jumping into Plyometrics, I picked up High-Powered Plyometrics by Radclieffe and Farentino. Immediately, I noticed several differences between the two books: instead of drawings, High-Powered Plyometrics uses a set of very clear photos to demonstrate each drill, along with detailed instructions for performing the drill. The pictures and explanation are much better than what's available in Jumping into Plyometrics.
Secondly, the drills were evenly divided between lower body and trunk/upper body drills. Given the increasing importance of trunk (core and abs) and upper body strength required for cross country ski racing, this added emphasis is an advantage over Jumping into Plyometrics. These added exercises come at the expense of few change-of-direction type drills. But then again, skiers don't need change-of-direction drills - we want ski down the trail, not jump into the bank of snow next to the trail.
Finally, Radcliffe and Farentinos' High-Powered Plyometrics provides a specific program for the Nordic skier!
Introductory Chapters
Similar to the Chu book, High-Powered Plyometrics starts with an explanation of how plyometrics works. The explanation is more technical and appears geared toward coaches or conditioning experts who have some background in physiology. I found the Chu book's explanations to be more accessible to the lay person (me). Radcliffe and Farentinos explanations are more complete.
For the do-it-yourselfers, there a great section on building an angle box, angle board, and a jumping box - include bill of materials and building diagrams. (No, you don't have to use these things to do plyometrics - they just let you add some other drills to your repertoire). The book does show how to use each piece of equipment introduce in the "Gearing up" chapter.
The Drills
The various drills are divided into two sections: (1) lower body, legs, and hips and (2) trunk and upper body. Within each section, drills are ordered by increasing difficulty. Altogether, the book covers 77 drills - few of which seem to overlap directly with Chu's book. (Yes, that's not a typo - both books have the same number of drills).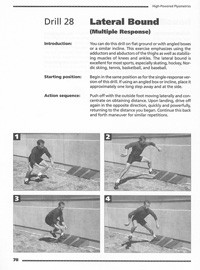 Sample workout from "High-Powered Plyometrics." Click here to enlarge in a new window.
Each drill (example to the left) introduces the drill (notices that this particular example says, "The lateral bound is excellent for...Nordic skiing"), describes the starting position and the action sequence, and provides a series of photos showing the drill.
Notice how explosive the actions look in High-Powered Plyometrics compared to the drawings in Jumping into Plyometrics (see a comparison drill below)! You can feel the combination of strength and speed just by looking at the photos! (Just so you know, I don't looking anything like the photos when I do plyometrics - the athlete in these photos has obviously been doing these for years!).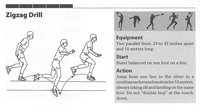 Comparison sample workout from Chu's "Jumping into Plyometrics." Click here to enlarge in a new window.
Toward the end of the book are 12-week training programs for various sports, including Nordic skiing (the other sports for those interested are track and field, football, basketball, volleyball, baseball & softball, wrestling, alpine skiing, soccer, tennis & other racket sports, cycling, and weightlifting). The program begins with twelve "Program Basics" - general conditioning drills. These drills lead into more complex and sport specific drills ("The Desirable Dozen"). You don't need to do the 12 week program, but you can definitely incorporate many of the drills into your normal training program.
Bottom Line
If I had to choose only one book for the endurance athlete - especially cross country skiers, I'd recommend High-Powered Plyometrics. Two reasons drive my recommendation: the excellent quality of the pictures and text explaining each drill and a training program specific for Nordic skiers.
Other book reviews related to Strength Training: