Book Review
A Practical Introductory Guide to Training
August 28, 2004 - By Mike Muha

Fitness Cross-Country Skiing
By Steven E. Gaskill
1998, Human Kinetics
Fitness for Cross Country Skiing is a practical guide for introducing skiers to the concept of training. It's greatest strength is that it provides a large number of sample workouts for both winter and summer, at different intensity levels, with many alternatives for using your bike, inline skating, running, hiking, swimming, and even exercise machines. Gaskill allows you to leverage the equipment you have to increase your fitness.
The book also has a good chapter on warming up, stretching, and warming down, and a very good chapter at the end of the book on eight field tests you can do periodically to assess your fitness.
Part 1 - Preparing for Cross Country Skiing
The first chapter provide a very quick overview of the pros and cons for cross country skiing, how cross country skiing affects your cardiovascular fitness, muscular endurance and strength, flexibility, and body composition, and compares skiing's fitness benefits to other sports.
The second chapter describes what equipment you need to ski and how much it costs. Chapter three has a questionnaire and short fitness test to assess your current physical fitness. Chapter four briefly describes different ski techniques (3 or 4 sentences each) and alternative dryland training activities. These are fairly light chapters, but for someone new to the sport, or new to performance skiing, they provide a nice overview of the all the different components that make up the sport.
The fifth chapter is a very good discussion of why you want to warm up and cool down. The chapter provides great descriptions of stretches you can do standing up in winter so you don't get wet in the snow!
Part 2 - The Meat and Potatoes (or Rice and Beans if You're Vegetarian)
This is where the book gets good. Gaskill first describes six workouts zones (as opposed to training zones) that divide workouts into low, medium, and high intensities for short or long distances. He then describes how to tell your training intensity three different ways: based on your heart rate, a "Rating of Perceived Exertion" RPE scale, and a comparable "talking scale". The RPE/talking scale is a great addition to the book, not only for people who don't own a heart rate monitor, but for people with monitors who want to fine-tune their heart rate zones.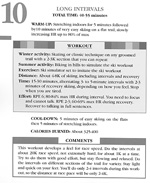 Sample workout from "Fitness for Cross Country Skiing." Click here to enlarge in a new window.
Six chapters are dedicated to the six workout zones. Each proceeding zone is harder than the previous zone. Each chapters has 10 sample workouts, where each workout is harder than the previous workout.
I think it's really useful to present one of the workouts so you can see how well Gaskill pulls together a session. At the left is the hardest interval session from the 4th workout zone. Click on it to pull up an enlarged version in a second window.
Let's go down the page...
Gaskill first provides an estimate of how long the workout will take, including warm-up and cool-down ("TOTAL TIME: 65-95 minutes").
He provides instructions on how to do a warm-up.
The WORKOUT section provides winter (skiing), summer (biking), and exercise machine alternatives for this particular workout.
He estimates how much distance you'll cover.
He tells you how long the core part of the session will take ("30-60 minutes").
He describes the effort level for each interval and rest period three different ways: Rating of Perceived Exertion ("RPE 6"), percent of maximum heart rate ("80-84% max heart rate during interval"), and Talking Scale ("You need to focus and cannot talk")
There's a description of the cool-down.
There's an estimated number of calories burned.
He provides a COMMENTS section that describes in more detail the goals of the session and the method for completing the workout.
As you can see, it's a pretty complete description of a good training session. And there are 59 more, including a few sessions dedicated to strength.
Part III - Pulling It All Together
The final section of the book talks about setting up a personalized training program. Again, it's a practical guide and does not assume you're a world class athlete. In fact, he even has training suggestions for people who are sedentary.
He describes some basic training principles (why we train hard sometimes, easy other times, why we take days off, what "specificity" is, why an aerobic base is important, etc.), then talks about breaking the year into different training periods focusing on different aspects of aerobic fitness.
Another chapter describes sample training months for people who want basic fitness, moderate fitness, or competitive fitness - very nice for different people who have different goals for the sport.
The final chapter addresses the question "It's hard to get where you're going if you don't know where you are." It talks about making goals, logging progress, and periodically testing you fitness to see what gains you've made.
Gaskill presents a battery of eight tests you can use to evaluate the different components of your training. For each test, he provides norms that compares your results to a set of fitness categories, from "Adequate for easy skiing" to "World Class". I'm going to try these one of these days, as soon as I get uf the courage - I'm afraid of where I'll rate!
Bottom Line
I think this is a good book for someone who has been on skis and wants to get better, maybe a tourer who wants more, someone who has dabbled in a couple races and wants to be faster, or even someone who has raced quite a bit but has only a limited background in training principles.
Will it turn you into a world class skier? No. In fact, some of the advice is slightly dated. Help it provide you some basic background that will help guide you to learning more about training? Yes. Will it help you become a more fit skier? Absolutely.