MOMENTUM - Peter Vordenberg,
Out Your Backdoor Press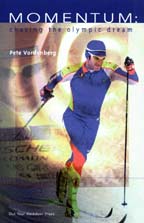 Few books capture the moment, the graceful motion or the exhilaration of the event they are written about. What a joy to have read one of those books that does and especially one about our sport, cross-country ski racing. Peter Vordenberg has capped an incredible career, although shorter than he had hoped, with what I believe will be one of the best sports books ever written.
In my first Birkebeiner in 1977, I realized that no matter how slow or fast the skiers were skiing, after Double O, no one was talking, everyone was racing. While Pete captures the essence of a national and world-class racer, he also captures the essence for every ski racer training at whatever level for whatever goal. I simply could not put this book down. I remember few other books about skiing that had the same effect. Some I knew I had to read because I wanted to learn from them, but a few like "The Cross-Country Ski, Look, Cook and Pleasure Book", by Hal Painter, Mary Hall's classic, "One Stride Ahead" and John Caldwell's "Caldwell on Competitive Cross-Country Skiing" were rapid and repeat reads. I remember a ski clinic that the Grand Rapids Nordic Ski Team held with Sten Feldheim and Duncan McLean as coaches at Timberlane where Duncan could quote Caldwell's Principle of Technique and Training verbatim and by number at machine gun speed. Pete's dream was Duncan's dream and Sten's dream and to a lesser extent the dream of every skier than enters a race.
Pete's realization the impact of his middle of the pack finish at Albertville when his grandfather told him it was one of the proudest moments of his life, is the effect of every great athlete on every family and there hometown communities.
Pete's descriptions of skiing at night at Elder with his high school teammates capture the classless sport we have chosen and his descriptions of the classic technique capture the purity of motion that many of us feel in love with when we discovered this sport.
Buy it and see how long it takes you to put it down. I'll bet it longer than you think. Thanks Pete for writing it, if you had won the gold, it probably wouldn't have been as good and you probably wouldn't still be skiing. Thanks Jeff Potter for publishes this gem.
Strength, Balance, & Core training for the Nordic Skier


Help support the NordicSkiRacer web site!

NordicSkiRacer
says, "Join the AXCS today! Promote XC skiing & get great benefits for yourself."


Recommended